We are very happy to announce the:
LAgniappe 2023 Professional Educators Conference:
Registration is OPEN ~ Early Bird Ends March 17th, 2023
Registration for One to Four Registrants
Group Registration of Five or More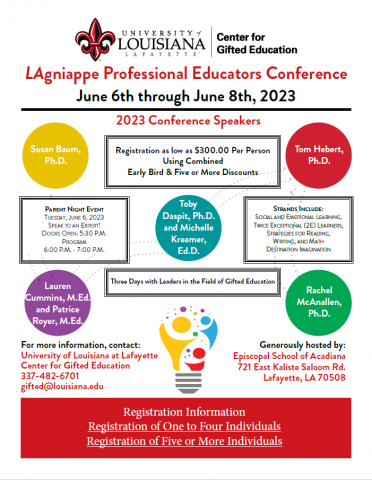 Our Conference Hotel is:

The Wingate By Wyndham Lafayette Airport
702 East Kaliste Saloom Road
Layette, LA 70508
Phone: (337) 234-3700

The hotel does not have a link for registration link. If you need to reserver one of the Double Queens in our Reservation Block. Please email:

gifted@louisiana.edu

I will be happy to provide you with a reservation nuber.
Our summer Educators Conference is a premier conference that is targeted to understanding the unique needs of gifted and high ability individuals. High ability learning is not just for those students who are gifted, but also to develop the talents of all students and to help them reach their potential. Explore topics facilitated by leaders in the field of Gifted Education. Some of our
past
internationally, and nationally renowned speakers include: Joseph S. Renzulli, Robin Schader, Susan Baum, C. Matthew Fugate, Rachel 'Ms. Math" McAnallen, Carol Ann Williams, Julmarria Jackson, among others. We are excited about
LA
gnaippe 2021. 
All teachers, counselors, administrators, homeschool teachers, and parents are cordially invited to attend this professional development conference.
New Programs for Masters in Gifted Education and Doctor of Education Exceptional Learner Concentration! See below for More Information.
Master's Degree Program in Gifted Education
Learn more about a faster way to finish your Masters in Gifted Education! This Masters in Gifted Education Education program provides a variety of experiences to support graduates in gaining and understanding the unique needs of gifted and talented students.
Doctor of Education Exceptional Learner Concentration
To learn more the Doctor of Education Exceptional Learner Concentration please contact:
     Dr. Christine Briggs - cbriggs@louisiana.edu
     Dr. Donna Wadsworth - dwadsworth@louisiana.edu
For more information regarding the Graduate School application and Educational Leadership program, please contact:
     Dr. Dianne Olivier - dolivier@louisiana.edu
Contact Us
For more information, contact Christine Briggs at 337-482-6718.
Christine Briggs, Director
Office: Picard Center 264
Phone: 337-482-6718
E-mail: cbriggs@louisiana.edu