Center for Gifted Education
Thank you for visiting the Center for Gifted Education!
Thank you to everyone who participated in our Screening Window. Our screening window is now closed. 
We are very happy to announce Program Dates for LAgniappe Professional Conference, LAgniappe AEP: Innovators on the Rise (Rising 1st through 6th Grade), and LAgniappe SSRC: Future Innovators Camp. 
LAgniapppe Professional Educators Conference ~ Wednesday, June 8, 2022 - Zoom Rooms open at 8:45 A.M. Sessions begin at 9:00 A.M. and end at 12:00 P.M.

See the Speakers and their Strand descriptions - LAgniappe 2022 Professional Educators Conference: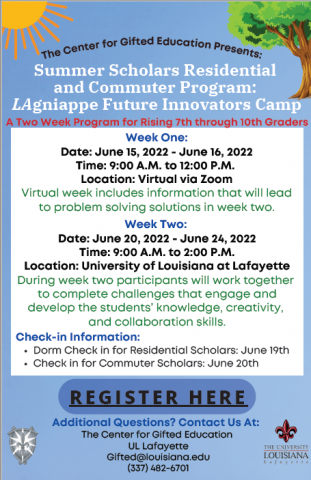 Check out our Original Curation from The Center:
Advocating for the Needs of Gifted and Talented Students
Check out this week's Online Resource from Counseling the Gifted:
Giftedness and Academic Underachievement
The Center for Gifted Education has a long and rich history of educating parents, students, and educators in and around the Lafayette area, the state, and the nation. The center was established in 1982 and is one of only 20 such comprehensive instructional, research, and service centers in the country. It is the only one of its scope in Louisiana.
UL Lafayette's Center for Gifted Education strives to focus on the needs of the high potential/gifted learner, parent, and educator. 
Our academic enrichment programs are designed to support the development of talent in high ability and gifted learners. For specific details visit our Children's Programs pages. The LAgniappe Educators Conference is the South's premier conference for educators and parents of high ability/gifted learners. This annual conference offers an opportunity for in-depth learning from the leaders in the field of gifted education. For more details visit the LAgniappe page.
Check back to see program updates for: 
Programs for Masters in Gifted Education and Doctor of Education Exceptional Learner Concentration! See below for More Information!
Master's Degree Program in Gifted Education
Learn more about a faster way to finish your Master's in Gifted Education! This Master's in Gifted Education program provides a variety of experiences to support graduates in gaining and understanding the unique needs of gifted and talented students.
Doctor of Education Exceptional Learner Concentration
To learn more the Doctor of Education Exceptional Learner Concentration please contact:
     Dr. Christine Briggs - cbriggs@louisiana.edu
     Dr. Donna Wadsworth - dwadsworth@louisiana.edu
For more information regarding the Graduate School application and Educational Leadership program, please contact:
     Dr. Dianne Olivier - dolivier@louisiana.edu
Contact Us
Please contact the Center for Gifted Education with any questions.

Kathleen McIntire, Administrative Coordinator III
Office Address
Cecil J. Picard Center for Child Development and Lifelong Learning
Room 266
Lafayette, LA 70506

Mailing Address:
P.O. Box 43648
Lafayette, LA  70504-3648

337-482-6701
gifted@louisiana.edu
Hosted by
Dr. Christine Briggs, Director of the Center for Gifted Education